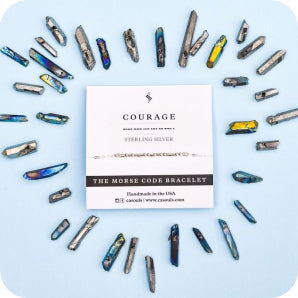 Wear Your Inspiration - Morse Code Inspiration Collection
We all need a little inspiration sometimes, especially in a world where bad news seems to outweigh good one. In our own lives, sometimes we also need a reminder that we can do anything, regardless of how big or small an issue may be. What better way of carrying these powerful reminders than by wearing them in the most subtle and beautiful way?  
We recently assembled fourteen empowering and inspirational messages to remind you of your ability to take on anything that comes at you and to cherish every moment of the experience. We hope these simple yet beautiful messages inspire your inner warrior and goddess. 
For those that appreciate yoga and enjoy finding peace through breathing and stretching, our inspirational line has the perfect match for you. These subtle reminders will keep you feeling calm and at ease even when you aren't in the yoga studio practicing your favorite pose. Who doesn't need that little hint to keep focused and stay balance especially when it comes to exercising our mind and our body?
Unleash the power of your inner being with this bold combination. Whether you want to ask for that raise or just need an extra push to keep your head up after a breakup, our powerful mantra is perfect for anyone who needs an encouraging reminder that with courage and confidence they can handle anything that comes their way.  
While a lot of times our minds tend to focus on the darkness that consumes our world, it doesn't hurt to hold a piece of light close to our hearts. Our uplifting mantras are here to help remind you that kindness and happiness can be found in our most trying times. Just keep looking and never give up believing because good thing will happen when you least expect it. 
You only live once, right? Some would argue that you only die once. But while we're alive, live every day to the fullest and make it count. These joyful mottos are perfect reminders to find joy in everything you do, seize every day of your life, and not let any moment go to waste. 
Our own worst enemy can often be ourselves. Have you ever second-guessed whether you have what it takes to overcome the obstacles life throws at you? These simple, yet powerful messages will be self-affirmations that 'you got this'. Sometimes they are all you need to conquer the world. Embrace the challenges, believe in yourself, and dream big make up the secret recipes of success. 
We hope you found a message that spoke to your heart or to someone that you know and that they will inspire you to dream big, seize the moment, and never give up on your dreams.